A guide to using Excel as financial accounting software
Organizations continue to use Microsoft Excel for finance, but using additional software has become a necessity. Here's our guide to making the most of Excel -- and recognizing when it's time to leave it behind.
Introduction
While many organizations are abandoning Microsoft Excel for new financial accounting software, some hold onto the application for tasks like budgeting, planning and forecasting (BP&F). However, most companies recognize that relying on Excel spreadsheets alone to keep track of financial data is not practical in the long run. Spreadsheets can be time-consuming to use and difficult to share among departments. Poor data integrity can become a problem.
But despite the availability of cloud-based financial management software and the growing need to perform analytics on financial data, Excel remains entrenched in business processes -- largely because it has been a part of the enterprise for so long. The enormous task of migrating users to another system can stand in the way. To cope, some companies use other tools alongside Excel to fill its functionality gaps.
In this guide, find out how to use Excel's capabilities to your advantage, including how to combine it with other tools for efficient financial processes. Expert tips and case studies also provide insight into the process of migrating from Excel to other financial accounting software.
1

Tips and tricks

-
Financial accounting with Excel
Excel may be losing popularity as financial accounting software, but it still plays its role in the enterprise. With certain tricks, users can make Excel a more valuable part of financial processes. Experts share their advice for making the most of Excel's financial accounting capabilities.
2

Best practices

-
Managing financial data in Excel -- and beyond
When companies move away from Excel, they often seek tools that will save time by allowing for more automation and better data integrity. But in many cases, Excel continues to hold much of the company's financial data. Users need to make the most of Excel functionality while recognizing where it falls short.
Read on for advice on managing data with Excel, avoiding its pitfalls and, when necessary, making the move to specialized software.

Download this free guide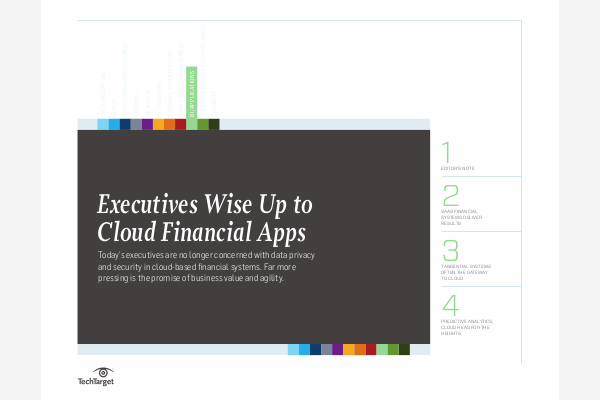 Considering Cloud Financial Software Instead of Excel?
In this expert handbook, finance pros on the fence about the cloud will benefit from two firsthand accounts of core cloud accounting and tangential functions in action. Further, experts sound off with advice on how to make the move to cloud-based financial apps, offering examples of the best functions gained from a to move to the cloud.
By submitting your email address, you agree to receive emails regarding relevant topic offers from TechTarget and its partners. You can withdraw your consent at any time. Contact TechTarget at 275 Grove Street, Newton, MA.
You also agree that your personal information may be transferred and processed in the United States, and that you have read and agree to the Terms of Use and the Privacy Policy.

3

Case studies

-
Excel's changing role in the enterprise
Despite its long history in the enterprise, using Excel alone for financial accounting is no longer a good idea. Is it time for companies to completely rid themselves of their Excel habits and move to new financial accounting software? Or are some companies still finding a place for their spreadsheets in their financial processes?
These case studies explore the question of whether to leave Excel behind.