Essential Guide
The four pillars of talent management systems: A solid HR foundation
A comprehensive collection of articles, videos and more, hand-picked by our editors
Evaluate
Weigh the pros and cons of technologies, products and projects you are considering.
Talent acquisition product roundup
The sheer number of specialty talent acquisition products on the market can be daunting. But don't fret -- this round-up can help.
FROM THE ESSENTIAL GUIDE:
Applicant tracking systems (ATS) have long been the cornerstone of the recruiter's technology arsenal. But today, there is an abundance of specialty talent acquisition tools to supplement these systems. And whereas traditional ATSes haven't always been the most user-friendly, the newer talent acquisition tools place the candidate front and center.

Download this free guide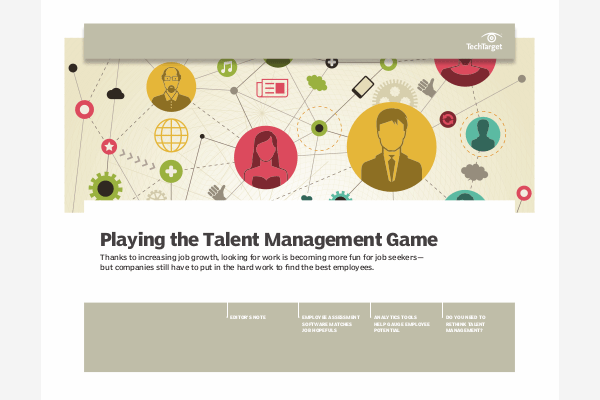 Talent Management Buyer's Guide: 4 Key Considerations
With an improving economy comes a flood of job applicants. And hiring managers are feeling the pressure to pick the best talent from the bunch. Luckily, a talent management suite can lift some of the burden. But what factors do you need to consider before buying? Discover 4 key considerations right here. Download now and save for later.
By submitting your personal information, you agree that TechTarget and its partners may contact you regarding relevant content, products and special offers.
You also agree that your personal information may be transferred and processed in the United States, and that you have read and agree to the Terms of Use and the Privacy Policy.
Today's recruiting products "feel like consumer technology," said Kyle Lagunas, talent acquisition analyst at research firm Brandon Hall Group, headquartered in Delray Beach, Fla. "The user interface, the tools they're offering -- it feels like you're using a consumer product."
But with a glut of niche products on the market, it can be hard for recruiters to create their vendor short lists. To help, SearchFinancialApplications has compiled a list of notable vendors in three areas of talent acquisition: sourcing, assessment and video interviewing.
Sourcing
Skills shortages, particularly in engineering, manufacturing and science industries, mean that recruiters are often fighting for the same in-demand people. Because these candidates already have jobs and aren't actively applying, talent acquisition specialists first need to find them before they can recruit them.
This is where sourcing software -- systems that help recruiters identify these valuable "passive" candidates -- comes in. In addition to helping recruiters locate candidates that might not otherwise be visible, these platforms also strive to identify better-quality people than those who apply through job boards.
Besides offering customized search tools, Entelo's Sonar product also allows recruiters to work backward. Using Sonar, recruiters first set up a job description and list skill keywords. The system "listens" for candidates who might be a good fit and are demonstrating behavior that suggests they're looking for a new job -- it then emails a list to the recruiter.
TalentBin, acquired last month by Monster Worldwide Inc., helps recruiters identify skilled candidates who might not be visible on LinkedIn or Facebook. It scans the less commonly searched social-media sites such as Quora, Meetup, GitHub and Stack Overflow.
The crux of this social-sourcing vendor's platform is an artificially intelligent job-search engine named SYMAN, which scours Facebook data for relevant professional information. Identified was acquired by Workday last month.
Work4's Graph Search Recruiter uses Facebook's Graph Search to source candidates based on their Facebook data. According to the vendor, the advantage of using this tool over LinkedIn's recruiting products is simply that more people are on Facebook, and therefore, recruiters have a bigger talent pool to source from.
Assessment
After identifying candidates, the next step is to determine whether they're right for the job. While talent acquisition specialists and hiring managers can get a good sense of a candidate through an interview, experts say it's helpful to supplement "gut feeling" with assessment tools. This way, hiring managers have hard data in hand to justify decisions.
According to Katherine Jones, vice president of human capital management technology research at Oakland, Calif.-based consultancy Bersin by Deloitte, the assessment technology market has a fairly broad scope. While some tools appraise technical skills, others focus on behavioral traits and try to determine if a candidate would fit into an organization's culture.
As for behavioral assessments, Jones offered a critical piece of advice for buyers. "The key thing to look for in an assessment vendor is if they have enough data to be able to generalize with a high probability of accuracy about what that [character] trait means on the job," she said. After all, if the vendor can't provide data on how well the assessment predicts success or failure, the results lose their meaning.
After candidates take the approximately 20-minute-long Talent Analytics questionnaire, the system's algorithms score them across 11 behavioral metrics and alerts hiring managers to areas of weakness. A version of the system is available through the Salesforce.com App Exchange.
PeopleAnswers claims to get to the "Behavioral DNA" of candidates by measuring 39 traits. The vendor was acquired by Infor in January 2014.
Featured as a "Cool New Technology" vendor at the 2012 HR Technology Conference, Knack turns the traditional assessment questionnaire model on its ear. Instead of having candidates answer questions, they instead play a video game. CEO Guy Halfteck claims that Wasabi Waiter, one of Knack's games, can produce an accurate candidate behavioral profile after only 15 minutes of play.
SmartRecruiters is not a dedicated talent assessment vendor; instead, its platform covers a number of recruiting functions, such as job posting, applicant tracking and social media sourcing. However, its assessment component may be unique in aggregating a wide variety of skills and behavioral tests so recruiters can administer different tests to different candidates.
Video Interviewing
Experts and vendors purport that video interviewing software can save time for hiring managers, reduce travel costs and improve the candidate experience. But are business leaders interested? According to Jones, they are. "There is definitely an uptick in interest and uptake in procurement of these products," she said.
But this might not be a niche market for long. Jones predicted that in coming years, video interviewing features will increasingly be added to broader applicant tracking systems.
WePow offers options for live, prerecorded and panel video interviews, in addition to applicant tracking capabilities.
While HireVue started as a dedicated video interviewing company, it has branched into other areas of recruitment of late, such as onboarding and sourcing.
With GreenJobInterview, candidates can complete either a live or an asynchronous video interview. The interface doesn't have to be green -- the vendor can customize screens to fit the employer's brand.
Before buying, assess vendor market viability
According to Lagunas, many of the specialty products in the talent acquisition technology market aren't hard on the wallet. "A lot of these point solutions are relatively affordable," he said.
But before going on a technology shopping spree, there's one important step that should not be neglected.
Before signing on with a vendor, Jones recommended that buyers assess the vendors' future in the market. This tip is especially relevant considering how many players on this list have been recently acquired.
"Anybody buying any piece of software should probably not ask the vendor but ask their financiers or their financial advisors 'what's the likelihood of this being taken out?'" she said. "Because truth be told, midmarket-size companies do not generally last that long in the market."
Emma Snider is the associate editor for SearchFinancialApplications. Follow her on Twitter @emmajs24 and the site @SearchFinApps.
PRO+
Content
Find more PRO+ content and other member only offers, here.