Evaluate
Weigh the pros and cons of technologies, products and projects you are considering.
Talent management systems oversee entirety of employee lifecycle
The 'war for talent' has started and talent management systems are here to help. See how they help businesses grow by recruiting, developing and retaining employees.
This Article Covers
RELATED TOPICS
Looking for something else?
The 2000s saw the rise of talent management systems designed to support talent recruiting and retaining processes. More recently, cloud-based talent management software has become the standard for talent management applications.

Download this free guide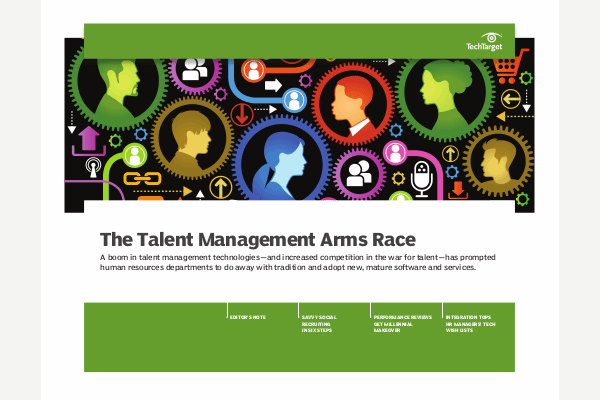 How to: Give Performance Reviews a Millennial Makeover
We are in the age of "the Facebook generation"— millennials. They'll make up the majority of the workforce. Ensure that your HR team has what it takes to appeal to this new generation of talent. Explore what you need to adapt (and avoid) to modernize your recruitment strategies and hire the best candidates.
By submitting your personal information, you agree that TechTarget and its partners may contact you regarding relevant content, products and special offers.
You also agree that your personal information may be transferred and processed in the United States, and that you have read and agree to the Terms of Use and the Privacy Policy.
Enhanced talent management software capabilities and the viability of software-as-a-service applications to support enterprise-level talent management have meant that organizations can better operate and execute on their talent management strategy like never before.
Talent management systems support the employee lifecycle
Talent management encompasses the employee lifecycle from when employees are hired to when employees retire, and everything that may come in between. Typically, talent management starts with marketing and posting of jobs and the attraction of candidates, and it continues through the recruiting process before onboarding. Once employees have started, then it is likely they will, at some point in the annual performance and compensation cycles, be part of goal setting, although this really depends on where the organizations they are joining are in their cycles.
Career development and training are processes that vary by organization. For those organizations operating in regulated industries -- with manufacturing operations, or any type of business that involves health and safety -- then training may be part of the job from day one. In other industries, it may be done as needed or as a very occasional part of the employee's career. In some cases, training may ramp up when an employee begins being introduced into high-performance programs or is considered as a successor for key roles in the organization. Much of this training may be tied to career development planning.
The pillars of talent management
Talent management typically contains applications that fall into one of the following pillars. The names and number of pillars change depending on the talent management systems vendor, but the concepts always remain the same.
Recruitment and onboarding
Learning and development
Performance management
Compensation management
Succession planning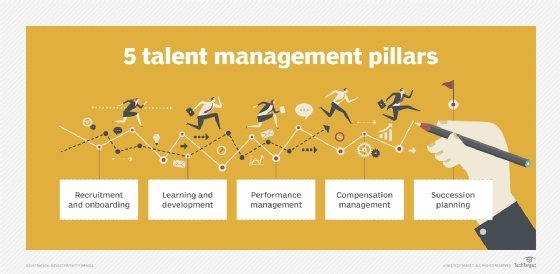 Recruiting and onboarding involve the processes of acquiring talent and successfully onboarding them into the organization. Recruiting gives candidates the first impressions of organizations from an outside perspective, while onboarding gives them the first impressions of organizations from the inside. First impressions count, and the recruiting and onboarding processes need to leave a good first impression on businesses' prospective and successful candidates. Successful onboarding engages employees and has a direct impact on their tenure at companies.
Learning and development processes are focused on training, education and personal development. These processes focus on compliance training, developing the workforce and providing career paths and career development opportunities for employees. By developing employees, organizations can become more efficient and productive, as well as increase employee satisfaction and retention.
Performance management is two-fold; it is the setting of corporate, team and employee goals and then the measuring, appraising and managing of employee performance. Performance impacts the organization in differing but interrelating ways. First, it defines the goals that managers and employees need to aim for during the performance appraisal period. Secondly, it enables organizations to measure and appraise the employees' year-on-year performances, identify who the top performers are and engage in continuous dialog to foster growth in performance and behavior.
Compensation management is a controlled process with defined budgets and often pay-for-performance strategies designed to incentivize and financially reward employees, enhance talent retention and influence performance.
Succession planning is focused on identifying successors for key position or roles, which ties into learning and development. Additionally, factors from performance may influence the identification of successors.
History of talent management software
Early versions of talent management systems were born in the 1990s, but talent management software only really took off after the turn of the millennium as a result of the seminal 1998 McKinsey paper "War for Talent." This paper coined the term talent management and inspired myriad integrated software by vendors to meet a newfound appetite by organizations to better manage and develop their employees as a competitive advantage. Prior to this, performance management and training tools had existed in rudimentary forms that supported the basics of these processes.
Some of the original talent management systems vendors are still active today, albeit in much more evolved forms than a decade or more ago.
With the rise of cloud technology, new HR and talent management software-as-a-service vendors have come into being. Some of the original talent management system vendors are still active today, albeit in much more evolved forms than a decade or more ago.
The rise of the talent management suite has been somewhat organic for many vendors who started with one or two functions and grew out to an integrated suite over a number of years.
What talent management systems do
Talent management software is designed to manage the processes discussed so far. However, it typically approaches these in a specific way.
Recruiting is typically broken down into the following functions and process flow:
Career website branding and marketing
Candidate profiles
Candidate talent pooling
Job requisition creation
Job posting
Job sharing and referrals
Candidate applications
Interview scheduling
Offer and rejection letters
Onboarding is typically broken down as such:
Receive prehire from recruiting software
Collect employment information and paperwork electronically
Procure prehire equipment and system logins
Introduce prehire to teammates
Provide prehire with information regarding goals, development plan and trainings
Provide other prehire date information
Onboarding software may also provide cross-boarding (internal transfer) and offboarding (employee termination) functions as well.
Learning and development is largely comprised of a learning management system (LMS), which typically provides things like a searchable training course catalogue and scheduler with different types of training (video, interactive, documents, etc.) with various scoring and assessment methods (multiple-choice, exams, etc.). Employees can use the LMS to structure course curricula, author and store content on external platforms, and sign off on completed courses or programs. There's also certificate generation, and some talent management software provides access to external learners.
Career development planning often provides:
Integration with an LMS, performance management and succession planning
Career plans with development goals, competencies and learning plans
Skills and competency assessments
Job matching and comparison
Desired jobs with competency gaps and development activities to grow into desired jobs
Performance management typically features functions that enable employees and managers to create, assign, cascade, track and review goals. This isn't just for the employee either; there are often team goals and team calibration features. Some systems offer gamification. There's real-time performance documentation and managers execute assessments at various scales. Managers can create surveys for their employees and also probe for feedback.
Compensation management usually delivers:
Integration with performance management for a pay-for-performance compensation process
Budgeting, including cascading budgets
Team and individual assessment
Team calibration
Percentage- or amount-based awards
Different types of compensation plans (e.g., merit, stock, long term incentive, etc.)
Multiple types of compensation plans simultaneously
Variable-based pay awards
Succession planning usually provides organization charts that show succession and identify successors and assign them to key positions. It sets competency requirements for different positions and can also match positions to successors. There are also matrices that outline an employee's performance and potential. Managers can provide risk ratings and also perform talent review meetings.
Typically all talent management systems should offer reporting and analytics capabilities for all processes. Some talent management software also provides a talent profile or employee profile for capturing talent-related data, such as education, competencies, work experience and more.
Talent management systems vs. core HCM
Some talent management software vendors have grown into the human capital management market by packaging core HCM capabilities alongside their talent management offerings as an end-to-end HCM suite. This enables organizations to create an HCM foundation that supports the talent processes, as well as providing employees and managers with a single system for all HR processes. Some talent management system vendors have offered core HR from the start, in one form or another.
Some of the key functions offered in a core HCM that enable successful integration with the vendor's talent management applications include a dashboard featuring notifications and workflows from all modules as well as company and departmental communications. They generally have employee profile and personnel files. There are employee and manager self-service functions. Often HCM suites have document tracking and automated updates when organizational changes are made.
Dig Deeper on Talent Management and Recruiting Software
PRO+
Content
Find more PRO+ content and other member only offers, here.