Manage
Learn to apply best practices and optimize your operations.
The move to SaaS-based applications remains a gradual process
More organizations are moving business applications off-premises, relying on technology once thought of as cutting-edge, like software as a service—but full steam ahead it's not.
FROM THE ESSENTIAL GUIDE: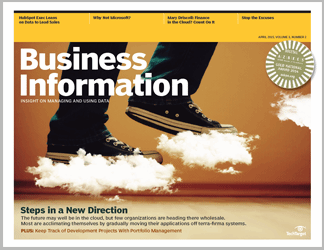 Download
Three years ago, chain restaurant operator Ovation Brands wasn't getting much applause for its business performance. Then called Buffets Inc., the company was emerging from its second bankruptcy since 2008, so it hired turnaround CEO Anthony Wedo to reinvent the corporate culture. It also brought in a new CIO, Patrick Benson.

Download this free guide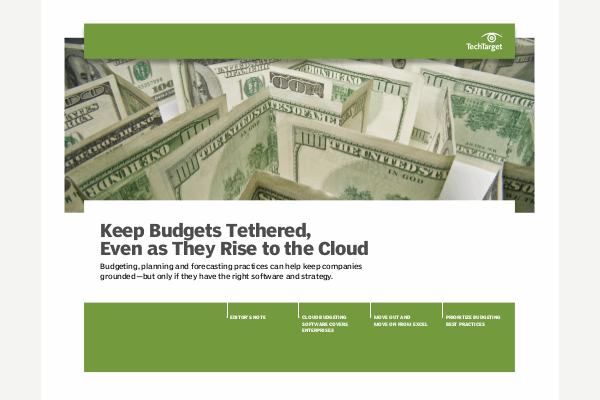 Do Your Financials Belong in the Cloud or the Ground?
7 scenarios of when (and when not) to use Excel, and best practices for prioritizing budgeting.
By submitting your personal information, you agree that TechTarget and its partners may contact you regarding relevant content, products and special offers.
You also agree that your personal information may be transferred and processed in the United States, and that you have read and agree to the Terms of Use and the Privacy Policy.
It didn't take long for Benson to realize that he would have to reinvent the company's IT architecture, too.
"I inherited an IT portfolio that was well past its end of life," Benson said of the aging and highly customized Oracle on-premises systems Buffets relied on. "There was little opportunity for timely business insight with what the old systems were providing."
The company, based in Greer, S.C., currently runs 328 family-style restaurants in 35 states. When Wedo took over, he envisioned it as a model of efficiency. Benson had a simple message for him: "Time is not our friend." To help get things back on the right track, Buffets needed a new IT strategy lickety-split, one that would let it focus more on its core business. It quickly became clear that a software-as-a-service approach was the way to go.
"It was going to let us shed some things that, frankly, we didn't need to be doing," Benson said.
Cloud computing has come a long way in a short time. In less than a decade, what was seen as little more than a tool for quirky departmental experiments or development sandboxes-for-rent has become a new model for enterprise IT.
Initially, organizations might have dabbled with a single SaaS application -- a browser-based business program hosted in the cloud and delivered over the Internet. Compared with on-premises deployments, SaaS apps could be up and running in no time, the upfront cost was dirt-cheap and there was no hardware to maintain. Moving to the cloud was considered innovative then; today the idea of running the bulk of business applications in the cloud is becoming mainstream.
"In many ways, it's a new way of doing business," said Christine Dover, an analyst at market research outfit IDC.
Large organizations jettisoning functional on-premises apps for cloud-based alternatives "doesn't really happen," Dover said, but the one-off experiments of yesteryear have given way to stepping-stone deployments that gradually lead to enterprisewide migration.
"They are picking where they start, and they're figuring out what's an area of low risk or saying, 'I've got to automate this process that we've done on spreadsheets,' " Dover said. Once a company has deployed a cloud-based app, she added, it typically looks to replicate that success elsewhere in the organization.
Easing into SaaS
The newly refashioned Ovation took the kind of path to the cloud that Dover laid out. Even so, the move was a big step for the company -- and before Benson could charge ahead, he had to make some preparations. He set new expectations about the pace of change that was coming and established a project management team, seeking involvement from every part of the business.
Benson decided to start small, at the restaurant level, deploying a back-office SaaS-based application called CrunchTime in the spring of 2013. The restaurant management and analytics software tracks food inventory in real time to cut down on food waste and does customer volume forecasting to help in scheduling workers. A smooth implementation and warm reception from restaurant managers "gave us a comfort level" with the cloud, he said.
Emboldened, Benson moved to the front of the house, adding the SaaS version of Micros Systems' Simphony point-of-sale application across the company's six restaurant chains, which include Country Buffet and HomeTown Buffet. After wrapping up a nine-month deployment last September, Ovation saw lower food and labor costs, increased insight into business results and customer tendencies and a variety of efficiency gains.
"You see success, and you see speed, with these kinds of rollouts," Benson said. "And we saw adoption. The uptake was pretty phenomenal from stores."
Seeking agility in the cloud
Similarly, business benefits and deeper analytical understanding resulted from One Call Now's move to SaaS-based applications. But unlike Ovation, which turned to the cloud to replace an aging legacy environment, One Call Now's migration was spurred by the desire to build a legacy.
Founded in 2002, the Troy, Ohio, provider of mass-messaging services hummed along for its first few years, building a base of clients that ranged from school districts and sports leagues to churches and local government agencies. Apart from its core telephony system and customer interface, which it built in-house, the company relied on two on-premises apps that could only be considered placeholders for a startup with big plans: QuickBooks for accounting and GoldMine for email and customer relationship management.
By 2006 it was clear that One Call Now had outgrown those parts of its IT environment.
"When you're a small company, you do a lot of things manually," said CTO Todd Penkowski. "We would have to manually copy data into QuickBooks and GoldMine. We wanted to get away from all that manual movement of data."
The company, which at the time had just a couple dozen employees, also was looking to get away from building or buying any on-premises software other than its core service platform. In searching for a cloud-based system that could replace both QuickBooks and GoldMine, Penkowski found NetSuite's SaaS-based applications, which not only provided a platform for integrating customer and accounting data but also for managing customer support. One Call Now simultaneously moved its email system to a Microsoft Exchange server hosted by SherWeb before migrating it last year to Microsoft's SaaS-based Office 365 service, which also enables Dropbox-style file sharing.
Now a tightly integrated environment has replaced those pesky manual processes. Data entered by customers via the company's secure website is automatically pushed through an API into NetSuite, where it can be sliced and diced to deliver real-time insights. And with its newly streamlined processes, One Call Now has grown to 80 people serving 22,000 clients who sent 200 million messages last year, generating revenue of $17 million.
All together now
Ovation also reaped rewards from its pursuit of tight systems integration -- and almost by accident. As it was implementing Simphony's checkout software, the company's confidence in the cloud rose, so it started considering a more ambitious migration of its core ERP and human resources systems to SaaS platforms. Then, while Ovation was evaluating vendors, news broke last year that Oracle was in talks to acquire Micros. That swayed Benson, who felt that moving to a more modern Oracle environment, combined with eventual integration between the Micros and Oracle software, would benefit Ovation.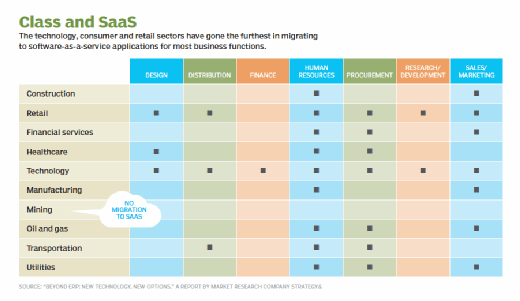 Six weeks after a kickoff meeting for the ERP deployment -- and a few weeks after Oracle's Micros acquisition was officially announced in June 2014 -- an initial iteration was ready. Just seven months later, in February -- on Friday the 13th, of all dates -- Ovation's SaaS ERP and HR applications went live.
The contrast with an on-premises deployment was striking.
"The major difference in the journey has been the warp speed at which we were really able to do this," Benson said. "It wasn't artificial or forced. It's just an organically faster process."
Even more important, it has resulted in a faster-moving business. "We used to wait a day or two just to get the previous day's performance information. That stuff now becomes real-time. We can see those business results and drill down into them. It's a step change from where we were before."
New shoes, sore feet
For Ovation, moving to SaaS-based applications hasn't come without tradeoffs. For instance, the company had to accept that it would no longer have a highly customized system and would instead have to adapt to the built-in processes in its various cloud platforms. And the shift in emphasis from software development to business analysis made some of the IT department's "tinkerers" leave for jobs where they could continue programming.
But the good has outweighed the bad, according to Benson. In addition to the business gains, Ovation's newfound analytical insight and lower operating costs brought peace of mind to him and other executives at the company. "We're always going to be up to date," Benson said. "We're never going to have to agonize over an expensive release or upgrade cycle."
One Call Now had its own hurdles to jump. NetSuite was primarily built for companies that sell physical goods. "Sometimes we had to change our own processes," Penkowski said. "But we worked with NetSuite to tweak the tool to make it more service-environment friendly." Specifically, One Call Now had to change its internal terminology to sell its messaging service as part numbers -- one for sports teams that play for three months, another for schools that are open 12 months and so on.
But that was a small sacrifice for an IT platform that requires no maintenance, has reduced sales inefficiencies and has given One Call Now new visibility into its customer support efforts.
The company has no plans to move its core telephony service into the cloud, but everything else is fair game, Penkowski said, and he believes other companies should consider migrating anything that isn't a core competency.
"If it's something that supports your business and is not what you're selling, then find someone who makes you comfortable," he said. "It's not worth the time and money to do it yourself."
Spoken like a true SaaS evangelist.
PRO+
Content
Find more PRO+ content and other member only offers, here.