Aleksandr Bedrin - Fotolia
Manage
Learn to apply best practices and optimize your operations.
Wellness technology augments corporate wellness coaches' services
Corporate wellness coaches supplement face-to-face interaction with mobile-based health activation software to help them personalize health and wellness plans with clients.
This Article Covers
RELATED TOPICS
Looking for something else?
TECHNOLOGIES

INDUSTRIES
Sean Terwilliger, a professional corporate wellness coach, had only been using his new wellness technology app for a week and had already seen an uptick in the amount of attention he could give to his clients.

Download this free guide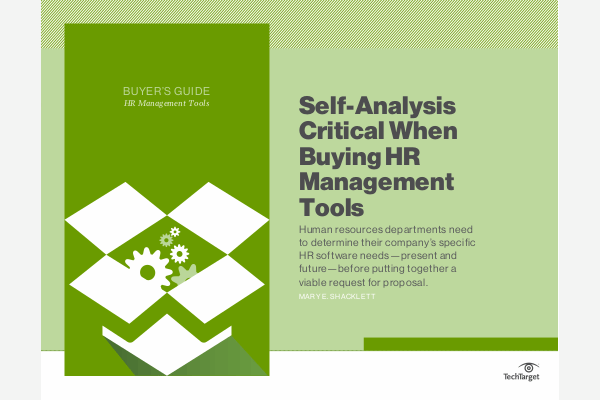 Buying HR Tools: The 4 Phases of Assessing Your Needs
Whether your goal is to replace your entire HR system because it has become obsolete or there's a desire to consolidate all HR apps under a single vendor, tap this guide to help you determine your company's specific software wants and wishes.
By submitting your personal information, you agree that TechTarget and its partners may contact you regarding relevant content, products and special offers.
You also agree that your personal information may be transferred and processed in the United States, and that you have read and agree to the Terms of Use and the Privacy Policy.
Terwilliger works for Wellness Coaches, which has on-site coaches at some 500 workplaces in 35 states. The company recently forged a deal with Twine Health, a vendor of what it calls an employee health activation platform targeted at workplace health providers.
Wellness tech on site at workplace
Terwilliger tends to the health and wellness of about 425 workers at the Kansas City, Mo., call center and offices of Johnson Controls, a global heating, ventilation, air conditioning and automotive parts company. Several dozen workers had Twine installed on their devices in the first week.
"It's allowed me to extend the amount of time and communication I've been able to extend to the employees," Terwilliger said. "The software really allows us to supplement that face-to-face interaction between visits with employees."
Twine's wellness technology grew out of behavioral science and psychology research that CEO and Co-founder Dr. John Moore did at the MIT Media Lab. Twine has published several scientific studies attesting to the effectiveness of its wellness technology for people with chronic conditions, like diabetes and hypertension.
How Twine works
"Behavior change comes from cocreating an action plan with the patient so that the patient is really intimately involved in creating the plan so the plan is something they believe in," Moore said. "And then it's synchronizing the plan so they can get support from the technology on a daily basis, but then connecting back with that human who cocreated the plan with really powerful communication tools so they can get the help they need right when they need it."
The Twine platform essentially acts as a multiclient dashboard for the coach. It is an interactive mobile-centric communication app for clients who log health metrics, such as blood sugar levels or exercise steps, so the coach can track progress and send feedback via secure Facebook Messenger-style text or recommend educational resources.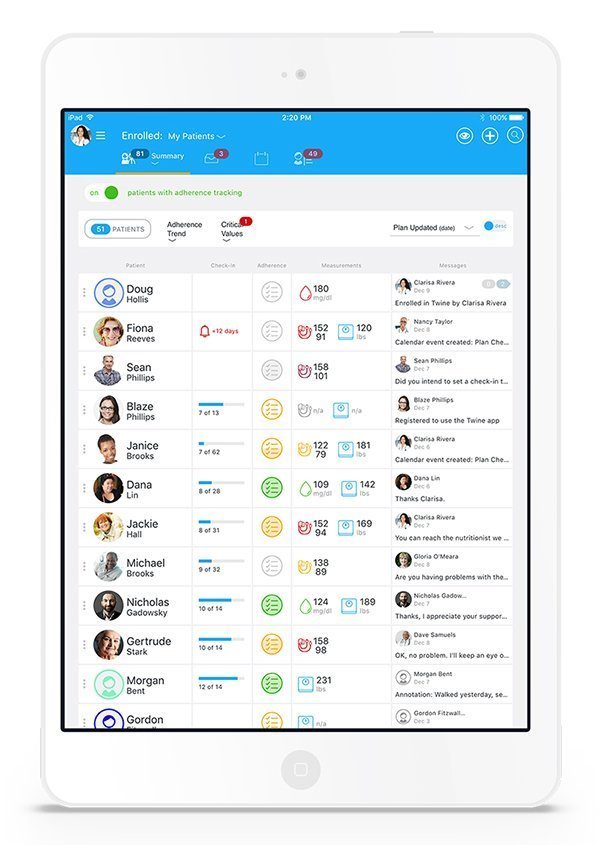 Individualized programs either use incentives as part of the employee's wellness or are incentiveless.
Twine deal with Wellness Coaches
Under the deal with Wellness Coaches, which bills itself as the country's largest wellness coaching provider, Twine is being deployed initially at 175 worksites, and the coaching company said it expects to extend the wellness technology to all its locations.
Another Wellness Coaches coach, Jeremy Smith, is assigned to another Johnson Controls location in Dallas, Texas.
Smith and Terwilliger received a day of training on the Twine wellness technology from Wellness Coaches, and Smith had just started with Twine at the time he was interviewed by SearchFinancialApplications.
At Smith's worksite, employees work a rolling three-shift system, so many employees aren't around to meet Smith for one-on-one coaching sessions.
Employers are sick and tired of increasing premiums, and they are going to take matters into their own hands.

Dr. John MooreTwine
"I'm pretty excited to use the technology," Smith said. "If the employees have their phones on in the break room, they just have to open the app and ask me a question. There's a convenience factor there."
"I don't know how many millions of hours Americans are on their phone, but I just think it makes sense to have a wellness option on there," he said.
Targeting workplace health providers
Meanwhile, while Twine started out a few years ago working with hospital healthcare providers and accountable care organizations, now the company focuses on workplace health and wellness providers (some of which are healthcare systems), self-insured organizations and companies with on-site health clinics.
"The most exciting innovation in healthcare is going to happen with worksite health providers," Moore said. "It's because the incentives are aligned to provide better care at lower cost, while the mainstream healthcare system is still a fee-for-service hamster wheel."
"Employers are sick and tired of increasing premiums, and they are going to take matters into their own hands," Moore said.
Dig Deeper on Workforce Planning and Workforce Management Software
PRO+
Content
Find more PRO+ content and other member only offers, here.