Talent management system can help attract and nurture "human capital"
Once a disparate collection of recruiting and training features in HRMS systems, talent management systems are focused on finding, developing, and retaining the talent that drives organizations.
This Article Covers
RELATED TOPICS
Looking for something else?
Talent management software provides an integrated set of IT tools for human resources that span the range of employee services. A talent management system can bring a unified perspective that lets companies find good people, bring them in, then train, guide, and compensate them.

Download this free guide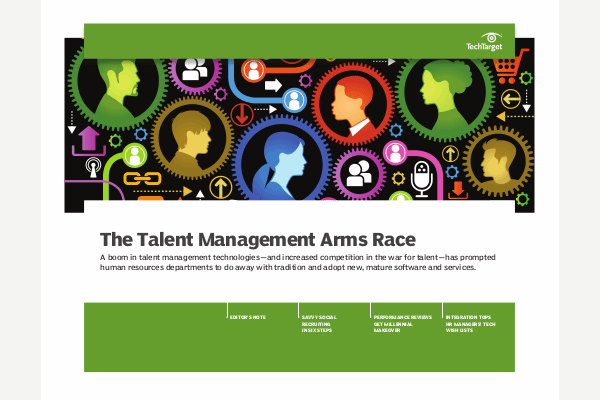 How to: Give Performance Reviews a Millennial Makeover
We are in the age of "the Facebook generation"— millennials. They'll make up the majority of the workforce. Ensure that your HR team has what it takes to appeal to this new generation of talent. Explore what you need to adapt (and avoid) to modernize your recruitment strategies and hire the best candidates.
By submitting your personal information, you agree that TechTarget and its partners may contact you regarding relevant content, products and special offers.
You also agree that your personal information may be transferred and processed in the United States, and that you have read and agree to the Terms of Use and the Privacy Policy.

The talent management system inbox
The need for talent management software is getting serious now. People who know the deep inner workings of the business are leaving. The class of 1950 turns 62 this year, the end of the first part of the Baby Boomer wave of retirees. Companies may have to hire new people, but likely will able to replace maybe one of three or four retirees. What are the key pieces of business knowledge that these retires must passed on to the business?
One of the job blogs has a post about a new Senate bill. Congress is always passing and not passing legislation, but this bill is different. A large number of people could be reclassified from non-exempt to exempt. What will that do to payroll systems, compensation packages, and skills-development programs?
At some companies, a third or more of the employees work from home or the road. Can the vacation tracking system accept input from a smartphone browser? Can a regional sales manager finish her latest training module from her Apple iPad?
These and plenty more are the strategic and tactical issues that can expose the gaps in current HR software. Reclassifying people from non-exempt to exempt is simple -- that's just a clerical task. How to assess the impact, though?
The employees themselves may not yet know their retirement plans, but trends in retirement ages can predict how many people will retire in a given year. Those predictions can become the basis for models to show what will happen to recruiting, onboarding, and training programs.
Why talent management software is needed
Bersin & Associates, an Oakland, Calif.-based research company, says in a report that the talent management software market is $3 billion and growing 12% a year.
A talent management system is not only a software solution. It's an analytical approach to aligning traditional HR functions with the often fluid needs of the enterprise environment. It helps with:
Attracting the right employees
Bringing them into the company
Supporting employees at key points throughout their careers
Ensuring that they are successful in their personal development goals and in their contributions to the company's business goals
Talent management lifecycle basics
Forrester Research, based in Cambridge, Mass., defines a talent management system as a suite of applications that support recruitment, performance management, learning and development programs, and compensation management. These have become known as "the four pillars." The Financial Times elaborates:
Recruitment applications help an employer identify the best candidate for a role and process their application.
Performance management programs enable them to set goals specific to an individual employee's role but which make a direct contribution to company objectives – the launch of a product, expansion into a new territory, or targeting a new customer demographic, for example.
Learning and development programs keep a record of the skills each employee arrives with, plus those they acquire on the job, and set goals that fit an employee's role and ambitions.
Finally, compensation management applications link employees' success in meeting their goals to their pay and rewards.
Legacy HR systems include one or more of these elements. What distinguish talent management systems are the scope of coverage and the resulting integration of information, according to experts.
Talent management is as much about processes as systems. Talent management systems are available from a number of vendors and systems integrators. Options include the following:
A comprehensive Web-based SaaS system from a single vendor systems integrator.
A set of additional products integrated with the HR components of ERP systems.
SaaS-based tools that are added to an on-premises HR suite
Cloud services, once seen as exotic, are now commonplace among HR software products. Cloud-based systems, whether public or private, can provide the scalability to support the asymmetrical corporate growth that is becoming the norm.
Technology, demographic trends affecting talent management
Like the sweeping changes brought by the retirement of the Baby Boomers, uncertainties about workplace law, fluctuations in the amount of outsourcing, and the invasion of personal mobile devices into the office are not only the design of talent management systems , but the problems they are used to address. For example, when people bring their own devices to the office (a growing issue called BYOD), it affects not only IT but the ways that people view their jobs, their resources, and who decides how work is done.
Is talent management the same as workforce management?
Workforce management (WFM) tools and processes look at only selected parts of the operation. While, in theory, WFM could encompass all of the elements found in a talent management system, most don't -- or do so only as discrete functions. WFM systems typically concentrate on labor scheduling, resource loading, and related operational details.
--Karl Hakkarainen
In addition, some talent management systems use the application programming interfaces (APIs) from social media networks such as LinkedIn, Facebook, and Twitter. Not only can companies post jobs to those channels, they can also find talented candidates in their native habitats.
All of these scenariosput a strain on systems and people, which is made worse by the uncertainty of events inside and outside the business. The meta-trends such as demographics, legislation, and a mobile, BYOD environment never affect just one part operations, nor do they affect all parts equally.
Experts say that good talent management software includes robust interfaces for new components and the ability to model new use cases. As a result, planning for a talent management system system that deal with disruption can take place without being disrupted itself.
Peoplefluent, for example, uses gaming to teach managers about its mobile talent management app for the iPad. Using dynamic information about the current workforce, managers can learn the app through questions such as "Who is the most underpaid among your second-level employees?" or "Whose job history includes experience with Company X?" vice president of product management, Neal Bruce, said that this type of gaming is a compelling way to learn about the workforce and as a motivation for learning. Gaming as a teaching and engagement resource is new, noted Bruce. "There are aspects to the power around games that have yet to be fully explored."
The Bureau of Labor Statistics Occupational Outlook describes the multivariate forces on the labor market in the next decade. Experienced workers will be leaving their careers and move into the next chapter of their lives. New workers from increasingly diverse populations will be seeking jobs that are less crisply defined than those of their parents.
This is one small part of the complexity facing HR executives and one set of pressures on the HR software systems. Talent management systems can provide just the right integrated and adaptive tools that HR professionals need to identify and respond to problems before they become crises.
About the author:
Karl Hakkarainen is a Massachusetts-based freelance technical writer and blogger.
Dig Deeper on Talent Management and Recruiting Software
PRO+
Content
Find more PRO+ content and other member only offers, here.