Essential Guide
The four pillars of talent management systems: A solid HR foundation
A comprehensive collection of articles, videos and more, hand-picked by our editors
Social performance management under review at many companies
To attract and retain millennial employees, many organizations are now going social with their performance review programs.
FROM THE ESSENTIAL GUIDE:
In the summer of 2011, when Leah Coyne took the reins as the first human resources director at Arlington, Va.-based Opower, the company's employee performance review process was nearly nonexistent.

Download this free guide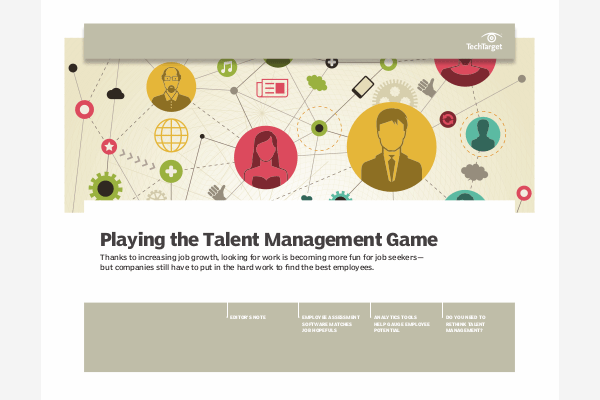 Talent Management Buyer's Guide: 4 Key Considerations
With an improving economy comes a flood of job applicants. And hiring managers are feeling the pressure to pick the best talent from the bunch. Luckily, a talent management suite can lift some of the burden. But what factors do you need to consider before buying? Discover 4 key considerations right here. Download now and save for later.
By submitting your personal information, you agree that TechTarget and its partners may contact you regarding relevant content, products and special offers.
You also agree that your personal information may be transferred and processed in the United States, and that you have read and agree to the Terms of Use and the Privacy Policy.

"After I'd been here for a few months, it was clear that it was time to invest in the people," Coyne said.
Opower was adding 100 new employees a year, many of them Millennials -- "the Facebook generation" -- who wanted frequent feedback, Coyne said. For a performance review program to be successful, it needed to incorporate the behaviors and culture that the new employees brought with them to the enterprise, she said.
In other words, a performance review program needs to be social, fast (close to real time), transparent and non-hierarchical.
With the recent emergence of social performance management tools like SuccessFactors, GloboForce, 7Geese and Work.com, companies have been able to get a more holistic view of employee performance. These platforms can help advance goal settings, increase motivation through real-time public recognition, and facilitate coaching and training in increasingly young, collaborative and far-flung work environments.
"Traditional performance reviews are formal. They're top-down. And it's a very uncomfortable practice," said Jacob Morgan, co-founder of Chess Media Group, a social management consulting firm. "Nobody really enjoys performance reviews and companies are realizing the traditional way of doing them isn't effective," Morgan said.
But before diving head first into a new social performance review process, there are key missteps to avoid and critical questions every forward-leaning company should ask itself, said experts and professionals in the field.
Do you have a plan?
"With any technology deployment," Morgan said, "the organization needs to decide what they hope to get out of it." Do they want badges or other kinds of social recognition? Do they want goal setting capabilities?
A company must ask itself why they want the new technology and how it's going to work, Morgan said. "Then ask, 'What capabilities do I need from this piece of technology [in order] to use it the way I want to use it?'"
From there, a company can start to look for vendors that fulfill those needs, he said.
Is integration possible?
"It's not really part of the DNA for most companies to move toward these social platforms," said Nigel Fenwick, an analyst at Cambridge, Mass.-based Forrester Research Inc.
"You have to change the work process to make them a part of the daily workflow."
If the social technology isn't integrated, you're only going to get the highly social people engaged in the process, Fenwick said.
And if an organization is already using a collaborative environment such as Yammer or Jive, it will have to decide how the new process will fit in, Morgan added. "They'll need to play nice together," he said.
For Opower, which began using Work.com this January, the vendor of choice was a logical one. The company was already using Salesforce and Chatter. And because Chatter -- the enterprise social network -- and Work.com are both Salesforce companies, the integration was potentially seamless.
"Getting [Work.com] integrated into Salesforce was a huge win for us," said Lee Wright, senior director of global sales operations at Opower. Now, with Chatter, for example, an employee can send public recognition to a colleague in the form of a "thanks" badge. Each customizable badge has particular significance and meaning tied to specific skills. When it comes time to evaluate performance, all of that public recognition is available to use for performance reviews.
What's more, Wright said, because Work.com isn't disconnected from other technology that employees use day to day in their jobs, employee and manager buy-in has been outstanding.
Do you have full buy-in?
"At the end of the day, the success [of the program] comes from whether or not people actually use the technology you deploy," Morgan said.
Morgan recommended asking employees and managers what they think of traditional performance reviews. Would they prefer if the company did something in a more social environment?
But organizational change is hard, Fenwick said. "You're talking about a massive cultural change for most organizations. It's hard to get people to change if they don't see the benefit," he said.
Fenwick said leadership can make a big difference in adoption and buy-in. If leadership uses the tools, it sends a message, he said.
For more on performance management
Learn more about the benefits of CPM
Read how talent management is going social
Understand recruitment and social media
It's also important to have dedicated staff to help drive adoption, Fenwick added. "Having someone whose role is a social manager or social evangelist can make a huge impact."
At Opower, Coyne knew from the results of a survey she conducted at the outset of her planning process that employees wanted more feedback more often. She was confident she'd have the majority of employees buy into a new social performance management process, so she decided to experiment with adoption.
"I sort of did a viral campaign," she said. "I secretly gave access to about five people and sat back and watched it multiply."
Adoption was created and driven at a grassroots level, she said. People had to want the new social-driven process to get it. "Instead of me telling people they had to be involved, they were telling me they wanted to be involved."
To be sure, not every company has employees and managers who are as social-minded and tech-savvy as Opower's. "You're going to have pushback against any type of change," Morgan said. "But the second people start to realize that either there's a better way to do things or the way they're currently doing things is broken, then they'll start looking for a solution."
What should you avoid?
Avoid a command-and-control approach, Fenwick said. "If you post something that's critical and someone jumps down your throat, you're never going to get honest feedback. It'll kill the social community."
The culture of the organization has to be open to people posting about problems and people trying to solve them, Fenwick said.
Also avoid making your social performance review program a technology project, said Chess Media's Morgan. "It's not just about the tech. It's about people, process improvement and evolution in how the organization is going to work," he said.
There's a huge shift happening in the way we work, Morgan said. "And organizations are struggling to adapt. The change isn't just around technology. It's around behavior, culture and hierarchy."
"The traditional performance review is a rigid and often dreaded ritual; it's frozen in time," said Eric Mosely, CEO of Globoforce, a social recognition software vendor based in Southborough, Mass. But as social technologies increase in importance, Mosely said, "it will empower employees to have a greater voice and end the inflexible, top-down review structure that has plagued organizations for decades."
"You're putting your finger in the dike if you're not doing something like this already," Wright of Opower said. "If organizations embrace it, they'll see how much easier it makes life, not how much more difficult."
PRO+
Content
Find more PRO+ content and other member only offers, here.