Fotolia
Manage
Learn to apply best practices and optimize your operations.
Aligning sales performance management with corporate strategy
Multiple layers of software tools and business processes are needed to ensure that sales performance serves a company's strategic goals -- and the bottom line.
This Article Covers
RELATED TOPICS
Looking for something else?
In recent months, I have written about performance management in sales, marketing, human resources and the supply chain. Indeed, each of these areas is of key importance to a corporation. But, all too often, performance management is only tactical, with an emphasis on the current fiscal year or out to an annual budget horizon. Each of these areas must be aligned to the overall corporate strategy, as corporate strategy sets the direction for all groups to follow.

Download this free guide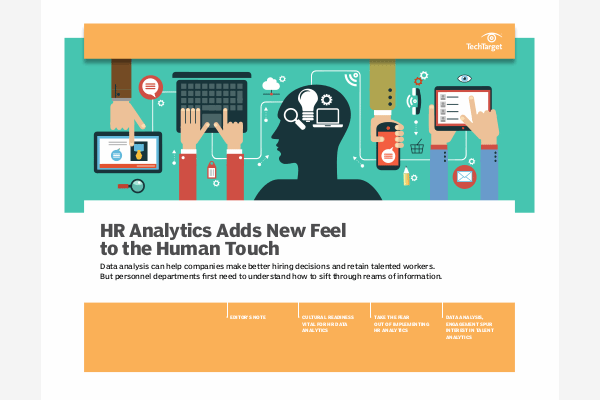 Download: Take the Fear Out of Implementing HR Analytics
Get advice on planning and evaluating an HR analytics project, learn skills you need to interpret the data produced by HR analytics software, and explore the potential hidden in talent analytics.
By submitting your personal information, you agree that TechTarget and its partners may contact you regarding relevant content, products and special offers.
You also agree that your personal information may be transferred and processed in the United States, and that you have read and agree to the Terms of Use and the Privacy Policy.
In this article, I will revisit the area of sales performance management (SPM) and planning, but in the context of corporate strategy, using a hypothetical company called Critical Path as an example and tracing its journey from strategy to sales planning and back. Sales performance management technology will play a key role.
As for the best tools to manage the process, SPM software provides clear value for territory management, quota management and incentive planning. Corporate performance management (CPM) software provides additional value, with its emphasis on budgeting, planning and forecasting.
As the following case study will illustrate, technologies and processes besides CPM are required for effective strategy management. While the process is often supported by CPM vendors, other vendors specialize in the strategic aspects.
Formulating high-end strategy statements
Our fictional company, Critical Path, manufactures lighted walkways with specialized verticals for hospitals and private residences. It sells the latter products through building-products resellers.
Critical Path begins its strategic planning process by creating mission, vision and value statements:
Mission: Our mission is to light the way to the paths of least resistance.
Vision: Our vision is to increase our market share leadership in the U.S. by 10% while expanding operations to Western Europe and Asia.
Values: We will provide reliable, high-quality products at fair prices. We will also nurture the well-being of our employees and the environment.
From a methodological perspective, while most strategies begin with mission, vision and value statements, creating a complete strategy is a more complex exercise that involves modeling the future across several years. Modeling software from vendors such as Quantrix or Whitebirch can prove quite useful in modeling various scenarios.
Critical Path's proposed expansion in the U.S. and abroad will certainly require better performance by sales and operations executives. But first it must examine its goals and initiatives.
Establishing goals and initiatives
Goals must be clear and unambiguous and describe what you are trying to achieve. They must have a specific outcome and an achievable end date. For Critical Path, an example of a real goal would be to open three offices in Western Europe by March 2017.
Initiatives are the tasks that allow the strategy to be effective and the goals to be accomplished. An initiative for Critical Path might be to acquire office space in Western Europe by January 2017.
Developing initiatives, complete with resource assignments and initiative dependencies, often requires project management software.
Strategy maps can help focus efforts
Strategy maps, which I have written about in a previous article, are useful visual devices to see how strategy elements come together. The figure below shows a generic example. A companion technique called balanced scorecards can also be helpful in tracking key metrics and objectives.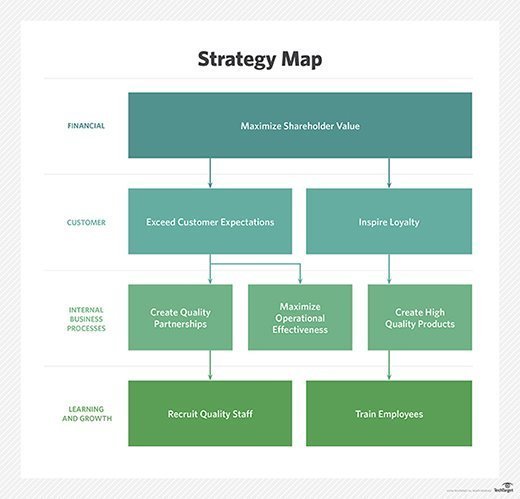 Critical Path's strategy map might read as follows, from the top down:
From the financial perspective, Critical Path is interested in increasing market share. Shareholders might see some early financial gain from this; however, the increase in market share might actually be unprofitable for the first year of the strategic plan. But increased market share will pay dividends in the future and, in any event, the financial perspective must be made clear.
The customer perspective will require great products and customer care from the sales force. Both will contribute to the goal of increased market share.
Internal business processes include excellent territory management, collateral management and quota management. Sales managers must provide appropriate incentives. All of these processes play a part in sales performance management.
Learning and growth will depend upon recruiting new salespeople, as well as providing training for all sales staff.
Sales performance management and planning as a group activity
Some initiatives must be completed before sales can be effective. For example, Critical Path must set up offices (or perhaps use temporary space) in Western Europe before the sales process can begin. The product development department might need to make new types of lighting that meet building codes and ensure that building contractors are trained in all of the company's products. In short, successful sales execution requires well-coordinated initiatives across different departments.
Sales performance management is often tactical, with an emphasis on the near-term activities of the sales force. But, like all key departments or functions, it must link to the strategic planning process, and the sales department must understand the nature of strategic change and its role in supporting it.
Dig Deeper on Corporate Performance Management Software
PRO+
Content
Find more PRO+ content and other member only offers, here.