Rawpixel - Fotolia
Get started
Bring yourself up to speed with our introductory content.
Expert advice on integrating HRIS with cloud-based talent management
When it comes to integrating your HRIS with your new talent management, you'll want to plan ahead. Here are five key areas and advice on addressing them successfully.
This Article Covers
RELATED TOPICS
Looking for something else?
Once your company makes the plunge and buys a brand new cloud-based talent management application or a suite of talent management applications, a critical stage in the process begins – human resource information system integration. Indeed, you'll need to plan ahead to successfully integrate these applications into your existing HRIS. Here are five areas that you'll need to tackle and advice on creating integration success.

Download this free guide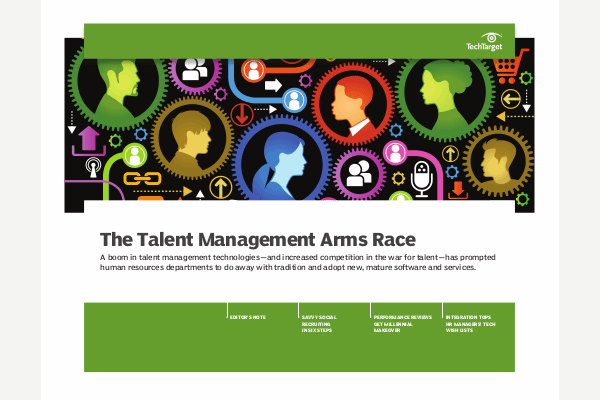 How to: Give Performance Reviews a Millennial Makeover
We are in the age of "the Facebook generation"— millennials. They'll make up the majority of the workforce. Ensure that your HR team has what it takes to appeal to this new generation of talent. Explore what you need to adapt (and avoid) to modernize your recruitment strategies and hire the best candidates.
By submitting your personal information, you agree that TechTarget and its partners may contact you regarding relevant content, products and special offers.
You also agree that your personal information may be transferred and processed in the United States, and that you have read and agree to the Terms of Use and the Privacy Policy.
Process integration
Many of your HRIS integration points will be driven by your processes, which, in turn, are driven by what talent management technology you've purchased. You might need to build a number of cross-system process integrations, such as:
Replicating employee data to your cloud-based talent management system to run your processes
Creating a requisition in your cloud-based recruiting system from a vacant position in your HRIS
Replicating a new hire from your cloud-based recruiting system or onboarding system to your HRIS, back into the vacation position used to create a requisition
Replicating completed courses and qualifications from your cloud-based learning management system to your HRIS
Replicating salary data to your cloud-based compensation planning application from your HRIS
Replicating updated compensation data from your cloud-based compensation planning application from your HRIS
As you can see, some of these are pairs of processes that often entail sending some form of data from your HRIS to your cloud-based talent management system and then sending the result of the process back to your HRIS.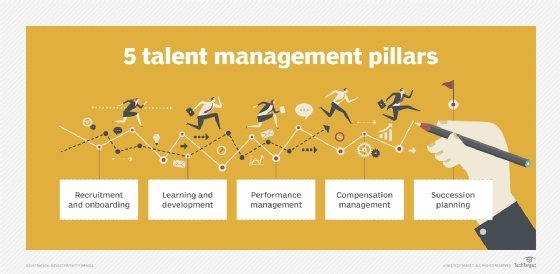 Foundational data
Typically, your new cloud-based talent management system is going to need a mini master of employee data in order to run any processes. Depending on the system, a basic set of data is required, such as employee ID, active or terminated status, name, email address, manager, HR manager or HR representative, and department. With this data, the talent management system can manage all processes and enable workflows and notifications to be created.
Your employee data may need some data transformation to be accepted into the talent management system. For example, this could be the employee ID field if leading zeroes need to be added or removed, or the active or terminated status being converted to the relevant target mapping (e.g., "terminated" in your HRIS might be "inactive" in your talent management system).
Process-specific data
Like with most integrations, using a middleware platform is the best way to integrate your HRIS and cloud-based talent management system.
Depending on the process, you are going to need to send additional data. This is where things can get a little more tricky than sending over employee data. Process integration is more than just sending over process-specific data, it requires actually starting processes in the target system from the source system. This is not going to be possible with every talent management system, and so it isn't something you should set your heart on.
Irrespective of process integration, you still need to get your process-specific data to the talent management modules that need it. If you're running compensation planning processes in your talent management system, then you'll need to replicate salary and other compensation data. This can be straightforward, with the exception of formatting and transformation of numeric values. However, for example, if you want to send position data for creating recruiting requisitions, then the data that is replicated to your talent management systems is going to include more data.
In some cases, your talent management recruiting system might require more data than you store in your HRIS or might even require certain data you don't store in your HRIS. This is going to require changes in your HRIS or mean a more customized integration solution (for example, you have to configure your integration to send specific values to your talent management system that aren't stored in your HRIS).
Challenges
As mentioned, challenges may arise from what data is stored in your HRIS and what data is needed in your cloud-based talent management system. You may need to modify your HRIS processes and that might impact existing processes, require modification to user guides or help guides, or simply need additional work during the implementation of your talent management modules.
The other challenge is where you need a specific process started either from your HRIS or in your talent management system using HRIS data. Some talent management systems either don't enable processes to be started by external integrations or don't enable a process to be started using data that isn't entered in the system during that process.
Technology
Like with most integrations, using a middleware platform is the best way to integrate your HRIS and cloud-based talent management system. Typically, your HRIS will need web services to have data pushed over to the talent management systems, but for bidirectional process data integration then your talent management system will need to have web services also.
If you're only sending employee data or other data one-way to your talent management system, then you can also use flat-file integration if your talent management system can accept it.
Dig Deeper on Talent Management and Recruiting Software
PRO+
Content
Find more PRO+ content and other member only offers, here.