Get started
Bring yourself up to speed with our introductory content.
Supply chain performance management provides key metrics for finance
Inventory and cash measures are some of the most powerful tools for aligning operations with finance in a comprehensive process for corporate performance management.
FROM THE ESSENTIAL GUIDE:
Supply chain management lies at the heart of most businesses that sell goods to customers. Defined as the management of the flow of goods and services, it includes the movement and storage of raw materials, work-in-process inventory and finished goods from point of origin to point of consumption. ERP vendors such as SAP, Oracle and Infor, as well as such specialty vendors as Manhattan Associates, provide operational software for SCM.

Download this free guide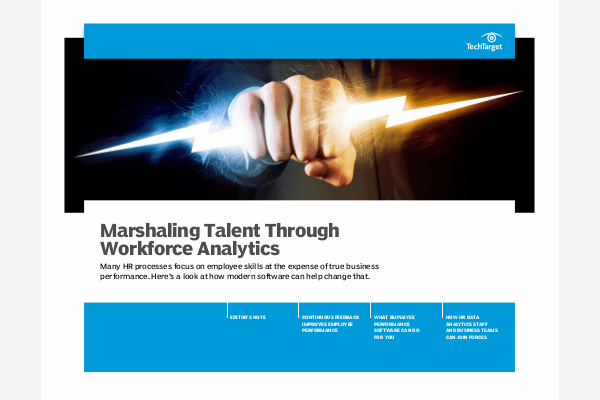 Improve Business Outcomes With Analytics, Performance Management
Forrester Research analyst, Paul Hamerman, and industry analyst Barry Wilderman reveal how companies are leveraging data to manage talent and connect performance to an overall business strategy.
By submitting your personal information, you agree that TechTarget and its partners may contact you regarding relevant content, products and special offers.
You also agree that your personal information may be transferred and processed in the United States, and that you have read and agree to the Terms of Use and the Privacy Policy.
IT and SCM executives need technology to not just manage operations, but to help manage supply chain performance. Here are the elements of strategy and some tools for measuring and improving SCM, also called supply chain performance management.
Metrics for supply chain performance
To manage supply chain performance, it is imperative that you create a set of measures that describe that performance. Here are two examples:
Days in inventory: The average number of days an item stays in inventory before being used in manufacturing or in a sale to a customer. Clearly, the fewer days an item is in inventory, the less cash is consumed by the company. On the other hand, safety stock is required so customers can receive their orders quickly.
Order to cash: The number of days from when a customer places an order to when the company is paid. Clearly, fewer days is better for the company. This supply chain performance measurement requires careful coordination with order management, inventory management, production and transportation. What makes this composite metric tricky is that fewer days in inventory can negatively impact order to cash.
Dozens of other metrics are possible, as well.
Choosing a methodology
Supply chain performance management demands a logical approach. According to supply chain expert Scott Pribula, the steps include the following:
Define corporate objectives, at both the operational and strategic level.
Identify the most relevant performance metrics, their related goals and how they help meet corporate objectives.
Calculate the current performance for each metric. Metrics are either standalone (such as days in inventory) or composed of multiple submetrics, such as order to cash. Develop an understanding of the metrics of the overall process and the metrics that contribute to it. Establish future goals for each metric.
Examine technology changes that could improve supply chain performance in each area being measured. Identify data sources and calculations for performance reporting, along with target audiences for such reporting.
Technology for supply chain performance management
Supply chain performance management requires a number of different technologies to align and aggregate disparate data, as well as provide visual outputs for both operations and strategy.
Extract, transform, load (ETL) software helps to gather and prepare raw data from multiple sources for uses such as reporting. It's necessary first to determine all the sources of supply chain performance data, many of which might be in the ERP system. They can also include sources of benchmark data -- for example, the Supply Chain Operations Reference (SCOR) model from the Supply Chain Council. The ETL software must be capable of creating aggregates and clear metadata definitions.
A data store can be a key component. The supply chain performance data may be stored standalone, but it is more likely to be part of a corporate data warehouse that also contains financial data.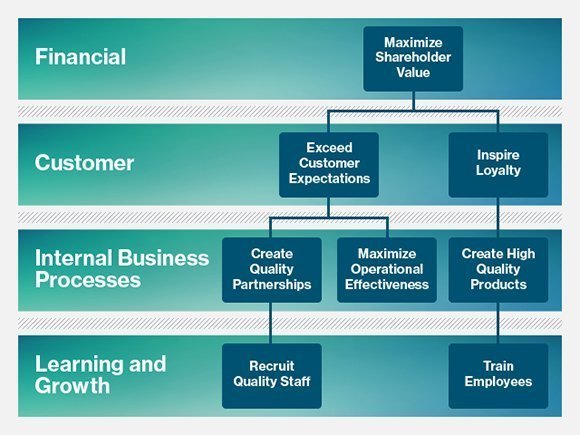 In addition to report generation and ad hoc analysis, visualizing results in analytics dashboards is quite useful for gauging supply chain performance. The dashboards should be uncluttered and aligned with the needs of different constituencies in the supply chain and finance communities. Alarms attached to each dashboard can provide immediate warnings when a result has gone awry.
Supply chain performance must also be viewed as part of a larger strategic context that includes both the customer and finance. Balanced scorecards and strategy maps (see the figure) provide such an integrated framework. Supply chain performance processes and technologies are part of internal business processes.
A case of Coca-Cola
At one time, Coca-Cola, which has a vast supply chain network, couldn't get consistent reporting across its plants. So, the company initiated a project with the goal of creating a uniform supply chain performance management system across the company and using it as the basis for tactical and strategic decision making.
As a large user of SAP's software, Coke's approach was to use supply chain and business warehouse (BusinessObjects) software from SAP, along with some help from SAP's consulting division. The project was driven by ITC Infotech, a consulting firm that also deployed its own supply chain software.
A proof of concept to validate the approach was completed in early 2010. Next, a set of simpler metrics was defined, followed by the design of long-term metrics. For the implementation, a team of 12 was involved, working across supply chain, business warehouse and portal focus areas.
The new supply chain performance management system helped align business strategies with corporate objectives. The focus on metrics allowed a consistent set of profitability measures across the supply chain. Finally, if there were issues, a root-cause analysis -- based on consistent metrics -- could be undertaken immediately.
The implementation of supply chain performance management technology requires close collaboration between IT and supply chain executives. It is imperative that a good methodology be followed to drive the project.
PRO+
Content
Find more PRO+ content and other member only offers, here.